The castle La Tour de Villa, built entirely on granite rock, stands in an elevated position with respect to the western plain of Gressan.
The most ancient part is surely the impressive 24-meter medieval tower with a square plan that reproduce the Roman scheme, built in blocks of tufa and granite-schisted blocks, with the function of sighting and alert.
The existence of the current semi-circular residential building and of the protective walls is testified by documents dating back to the first half of the fourteenth century, when it was called Domum Fortem, a stronghold.
According to tradition, the entire castle has already been renovated during the eleventh century for the marriage of Richera, sister of St. Anselm, archbishop of Canterbury and of Burgundo, Crusader Knight.
The denomination of the manor is due to the union of two ancient noble families of Aosta Valley, the La Tour and the De Villa, which had the rank of Pari.
With this attribute are defined the most ancient noble families of Aosta Valley who had the privilege to sit at the side of the monarch , during his official visits to his vassals in the thirteenth century. They helded the post of deputy dominions of Aosta.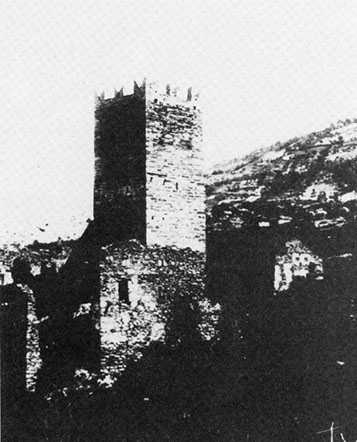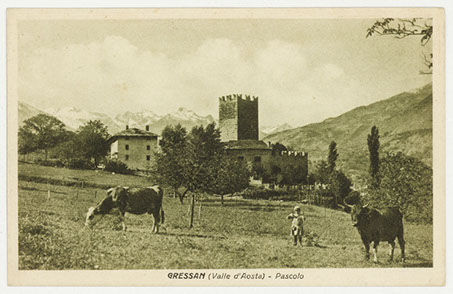 With the death of the last male descendant of the noble lineage of La Tour De Villa, which took place in 1693, the complex was convey by donation to the Aymonier family and later to the Carrel family of Aosta, who owned it until 1749 when it entered be part of the heritage of the Hospice de Saint Laurent, administered by the College canons of Sant'Orso, thus assuming the name of "Tour des Pauvres".
In 1864 the complex was sold to Vincent Carlin, interested only in the exploitation of the land and vineyards attached to the castle
After a slow and inexorable period of centuries of decline, the complex, now reduced to ruin, was purchased in 1885 by the then bishop of Aosta, Mons. Joseph Auguste Duc with the intention of turning it into his summer residence, starting then an important campaign of reconstructive restorations.
In 1921, after the brief passage of property to Mons. Gorret, prior of Aosta's Cathedral , the castle was purchased by Baron Giuseppe Gerbore of Saint-Nicolas, who, due to mourning family and adverse political events, in June 1943 he ceded it to the Arruga family of Milan, still the current owners.